Many academics have earned Nobel Prizes for their research and explanation of how stock markets work. Their findings lack bias, as these Nobel Laureates aren't trying to earn a commission or sell magazines and newspapers. More than a hundred years of academic research points to index funds as an investor's best investment. Sadly, the great majority of investors have never read these academic studies, and continue to actively invest.
2.1
One of the biggest hurdles investors face is knowing where to access reliable, non-biased stock market research that will point them in the right direction for investing appropriately. Because Nobel laureates have neither the budget nor the intellectual inclination to hire pricey Madison Avenue advertising agencies to promote their astute findings, most investors are unaware of the mountains of peer-reviewed research on investing. Additionally, because their findings run counter to the siren songs for active trading, played by the dozens of brokerage houses churning billions of dollars, investors who want to know the truth have to dig a lot deeper than CNBC.

Step 2 of this 12-Step Program for Active Investors provides a comprehensive overview of ample non-biased studies regarding the historical returns of stock market investing. In a nutshell, Step 2 will give you a summary of this research that you won't see in business magazines, hear on the radio, or see on TV. Here, I cover the objective conclusions drawn from 300 years' worth of unbiased, rigorous, and empirical research conducted by academics. This body of research discredits the conventional Wall Street wisdom that a stock picker, armed with enough knowledge and research, can consistently beat the market. The open access to such important information rests at the heart of an investor's ability to understand that active trading is a destructive force that eats away at capital, returns and quality of life. Once an investor recognizes the value of this truly useful information and research available to them, they are well on the road to recovery and real profits. Although this step is titled "Nobel Laureates," numerous academics will also be discussed who have researched the stock market, but have not been awarded a Nobel Prize.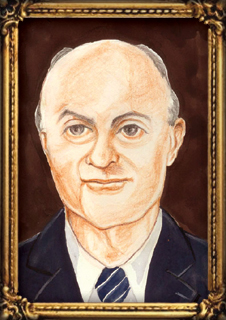 "Active management is a zero-sum game before cost, and the winners have to win at the expense of the losers."

"I can't figure out why anyone invests in active management, so asking me about hedge funds is just an extreme version of the same question. Since I think everything is appropriately priced, my advice would be to avoid high fees. So you can forget about hedge funds. [response to a question about where alternative investments belong in a portfolio strategy]" - InvestmentNews, October 7th 2013
"When is the market likely to be inefficient or to misprice securities?" Fama: When it's closed..." - Fama Interview, 2006
Eugene Francis Fama 2013 Winner of the Sveriges Riksbank Prize in Economic Sciences
"Sooner than I dared expect, my explicit prayer has been answered. There is coming to market... something called the First Index Investment Trust.... offering extremely low portfolio turnover; and best of all, giving the broadest diversification needed to maximize mean return with minimum portfolio variance and volatility." Newsweek Magazine, August 1976, also"It is not easy to get rich in Las Vegas, at Churchill Downs, or at the local Merrill Lynch office. "
Professor Paul A. Samuelson, Massachusetts Institute of Technology, Economist, Nobel Laureate in Economics, 1970
" Most of my investments are in equity index funds." BusinessWeek and "Why pay people to gamble with your money? "
Question: So investors shouldn't delude themselves about beating the market? Answer: "They're just not going to do it. It's just not going to happen."
Question: I wonder if I might ask you, ...how do you think people should invest for the future...? Should they buy index funds? Answer: "Absolutely. I have often said, and I know this will get some of your readers mad, that any pension fund manager who doesn't have the vast majority—and I mean 70% or 80% of his or her portfolio—in passive investments is guilty of malfeasance, nonfeasance or some other kind of bad feasance! There's just no sense for most of them to have anything but a passive investment policy."